Overview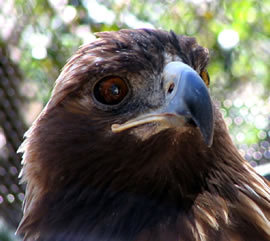 Distribution: Mountainous areas of Europe; in Britain occurs mainly in remote areas of Scotland.
Description: Dark brown on back & wings; head has a golden tinge. Hooked bill.
Length: 79 - 89cm. Weight: 3 - 6kg.
Wingspan: 200 - 220cm.
Lifespan: About 15 years.
Diet: Birds & mammals e.g. mountain hare, grouse, ptarmigan and carrion.
The golden eagle is one of the largest and most impressive of British birds, especially when seen soaring over a Highland glen or searching for prey over a hillside, with deep leisurely wingbeats. Often it can be seen from up to a mile away, and the impression always is of sheer size, power and majesty. The inexperienced may often confuse it in flight with a buzzard, but its long wings, relatively long tail and obvious head is enough to show it is an eagle. Once an eagle has been seen, there is never any doubt again.
Territory and Hunting: Each pair of eagles needs a huge territory of around 3,000 acres and they soar on thermals as they hunt their prey from the air. Once an eagle spots prey, it swoops down at a speed of up to 150 km/h, striking and killing it with its fiercesome talons. Keen eyesight allows the eagle to see prey as small as a mouse or a lizard, but animals as big as a fox may be killed. Normally, larger mammals such as deer are eaten if the eagle finds them as carrion (i.e. dead). Most of the prey is killed on the ground, but some birds are caught in flight.
Breeding: The golden eagle usually builds its nest, or eyrie, high up on a rocky crag up to 610m (2,000ft) above sea-level, although some eagles nest in trees. Within a territory, a pair may have two or three nests and use them in rotation. The nests are bulky piles of sticks, bracken and heather, lined with grasses.
The female lays two white, blotchy eggs, the first being laid in mid-March; she starts incubating the egg and then lays a second one three or four days later. Both eggs usually hatch but the youngest chick, born a few days after the first, either starves or is pushed out of the nest by the older chick - or even eaten by it! The surviving chick is ready to fly in 65 - 70 days.
Read More: Persecutions of the Past