Overview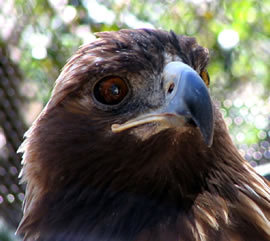 Order: Accipitriformes
Family: Accipitridae
Species: Aquila chrysaetos
Distribution: Mountainous areas of Europe; in Britain occurs mainly in remote areas of Scotland.
Description: Dark brown on back & wings; head has a golden tinge. Hooked bill.
Length: 79 - 89cm. Weight: 3 - 6kg.
Wingspan: 200 - 220cm.
Lifespan: About 15 years.
Diet: Birds & mammals e.g. mountain hare, grouse, ptarmigan and carrion.
The golden eagle is one of the largest and most impressive of British birds, especially when seen soaring over a Highland glen or searching for prey over a hillside, with deep leisurely wingbeats. Often it can be seen from up to a mile away, and the impression always is of sheer size, power and majesty. The inexperienced may often confuse it in flight with a buzzard, but its long wings, relatively long tail and obvious head is enough to show it is an eagle. Once an eagle has been seen, there is never any doubt again.