Overview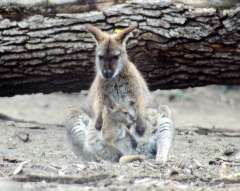 Order: Diprotodontia
Family: Macropodidae
Species: Macropus giganteus (Eastern Grey Kangaroo) , Macropus fuliginosus (Western Grey Kangaroo)
Distribution: Mainly in eastern Australia & Tasmania.
Habitat: Open forest.
Description: Small head, large ears; short, slim forelimbs but long, powerful hindlimbs. Long, strong tail. Colour is mainly grey with whitish underparts.
Size: Length: 1.5m weight: up to 91kg
Life-span: Up to 18 years.
Food: Mainly grass & leaves of shrubs.
The grey kangaroo, sometimes known as the great grey, is one of the best-known of all kangaroo species, along with the similar-sized red kangaroo. Its closest relative is the western grey kangaroo (Macropus fuliginosus). In total there are 55 species of kangaroo, wallaby & wallaroo belonging to the family Macropodidae (from a Greek word meaning 'big feet'). They are all similar animals but differ in size & build, from the large red and grey kangaroos to the rabbit-sized rat kangaroos. In general, a wallaby is simply a small species of kangaroo, having hind-feet measuring less than 25cm.
Read More: Breeding