Overview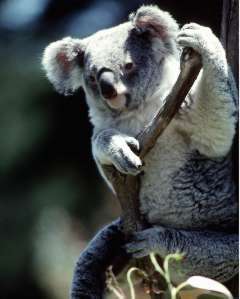 Order: Diprotodontia
Family: Phascolarctidae
Species: Phascolarctos cinereus
Distribution: East Australia
Habitat: Dry forest
Size: These measurements are the average for koalas in the South of their range; the ones in the North are quite a lot smaller. Head - body length: Male - 78 cm Female - 72 cm Weight: Male - 12kg Female - 8 kg
Gestation: 34 - 36 days
Life Span: Up to 13 years (18 years in captivity)
The koala is perhaps the best-loved of all Australia's marsupial, or pouched, mammals. Although it
is rather bear-like in appearance, its nearest relatives are the opossums. Tailless, except for a very short stump, the koala has thick ash-grey fur, tinged with brown on the upper parts and it is white on the under parts.
A Tree-Top Life: The koala spends most of its time shuffling around the topmost branches of Eucalyptus, or 'gum' trees, hanging on tight with its four grasping feet. It sleeps during the day, curled up in a tree-fork and feeds at night on the leaves and shoots of a few species of Eucalyptus. An adult will eat about 500g of leaves a day.