Palm Oil and the Orangutan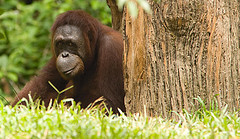 According to the IUCN, the Sumatran Orangutan is listed as "critically endangered" and the Bornean Orangutan as "endangered". Over the last ten years their numbers have halved and up to 5000 are killed every year, despite their status as protected species. See our orangutan factsheet for more information.
The RSPO (Roundtable on Sustainable Palm Oil) was set up in 2001, with representatives from 40% of the palm oil industry, to provide a set of ethical and ecological standards for the production of palm oil. However it has been largely ineffective and many of its members have been those with the worst practice. Due to various ongoing campaigns, many of these international companies and others have finally decided to make sure their palm oil for their products are sustainably sourced - this includes a chocolate manufacturer, a soap maker, a bank and a fast food chain.
According to an article in the Guardian in 2013, the pace of change is very slow, and only 15% of the total palm oil market is sustainable. However, The Netherlands, the UK, and Belgium have pledged to import 100% certified palm oil by 2015. Certified palm oil has not yet made a dent in non-European countries, but it is hoped this will change.
Read More: Further Information