Introduction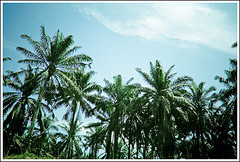 Oil palms are palm trees which grow hundreds of little orange/red fruits that are squashed, squeezed and pulped to produce palm oil. It is estimated that 33% of all the products in your local supermarket contain palm oil - that's a lot of products! It is used in bread, cereals, chocolates, pizzas, cleaning products, chewing gum and even shampoo.
Sometimes land is cleared so that it can be replanted with valuable cash crops such as the oil palm plant, which produces palm oil. It can also be used as a biofuel instead of petrol or diesel. Indonesia produces 90% of the world's palm oil and aims to double its production by 2020. Palm oil production is such a huge business in Malaysia and Indonesia that the latter has gained the title of "World's Fastest Rainforest Destroyer" in the Guinness Book of World Records!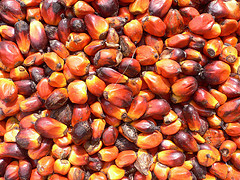 Valuable trees are harvested and the rest are burnt to clear the land for the farming of palm oil. As the soil's fertility does not last forever, the people at the head of logging companies avoid bankruptcy by buying up new areas of forest. Burning the trees and the peatlands beneath them is highly polluting (see below) although the ash improves the soil's fertility before planting.
In burning the rainforests Indonesia is also burning the peatlands below which store masses of carbon. Their peatlands cover just 0.1% of the earth's land, yet contribute to 4% of the world's greenhouse gases. This makes Indonesia the country with the 3rd largest carbon footprint in the world, when deforestation is taken into account! Bio-fuel targets in Europe mean that demand for palm oil is set to increase, despite the fact that more pollution is caused producing bio-fuels than is saved by not using petrol and diesel.