Overview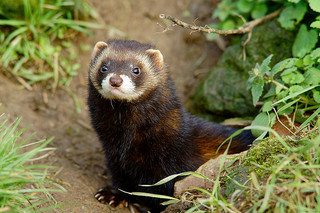 Order: Carnivora
Family: Mustelidae
Species: Mustela putorius
Distribution: mainly in Wales but spreading. Widespread throughout the rest of Europe, as far north as southern Sweden & southern Finland.
Habitat: variety of habitats but most often found in woodlands & hedgerows.
Size: male:- head & body 38cm; tail 14cm. Female is smaller.
Description: long, almost cylindrical body with short legs & tail. Dark brown fur with yellowish under-fur showing through; black underparts, legs & tail; white patches on face giving a distinct dark, mask-like pattern.
Weight: male up to 1.5kg. Female a little over half this.
Life-span: up to five years or more.
Food: mainly rodents, also rabbits, frogs, fish, worms and birds.