Overview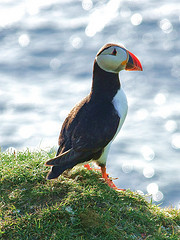 Order: Charadriiformes
Family: Alcidae

IUCN Red List Status: Vulnerable
Population Trend: decreasing
Distribution: North Atlantic and Arctic Ocean; breeding colonies in Britain are mainly on north and west coasts. Well-known colonies on Skomer Island (Pembrokeshire), Bempton on Humberside and Portland Bill in Dorset.
Habitat: Open sea, grassy cliff-tops and islands, boulders at the foot of steep cliffs.
Description: Stocky build, very large triangular bill which is bright red, blue and yellow in the summer. Black and white plumage; orange, webbed feet.
Size: Body:- 30cm; Wing length:- males, 147 - 170mm. Females, 146 - 168mm. Weight:- males, 345 - 488g. Females, 310 - 345g.
Food: Sand eels in summer. Also whitebait or fish larvae.
The puffin's distinctive bill has given it the nicknames of 'sea parrot' and 'bottle nose'. Although it looks a bit like a penguin or a parrot, it is actually related to the auk family - its close, larger relatives being razorbills and guillemots.
Read More: Breeding