What is a Snowflake?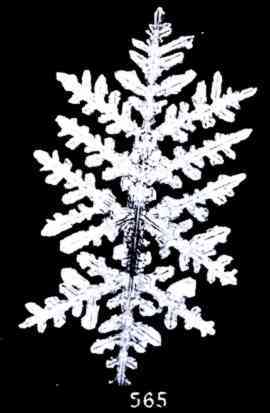 Some snowflakes look like oak leaves, some are shaped like dinner plates, and millions are very pretty and look like frozen lace.
Snowflakes are ice-crystals. Ice-crystals are like clear glass only much more fragile.
Ice-crystals come in millions and millions of shapes
and patterns. The shapes of snowflakes depend on how high up in the clouds they are formed.
Six-sided crystals are shaped in the high clouds. Needle or flat six-sided crystals are shaped in the middle layer of clouds. A wide variety of six-sided shapes are formed in low clouds.
An ice-crystal needs a temperature of 5 degrees°F to grow. The colder the temperature the sharper the ice-crystal tips.
In warmer temperatures, the ice-crystals grow slower and smoother. This means the crystals are plainer to look at.

Read More: Quiz