Overview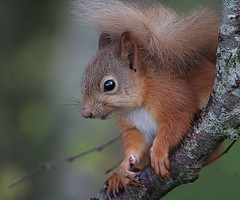 Order: Rodentia
Family: Sciuridae
Species: Sciurus vulgaris
IUCN Status: UK: Endangered, least concern globally.
Population Trend: decreasing
Distribution: Scotland, Wales, Ireland: a few habitats in England - Isle of Wight, Brownsea Island in Poole Harbour, Thetford Forest in Norfolk. Also found in parts of Cumbria, Lancashire, Merseyside, Northumberland, northwest Durham and the Yorkshire Dales. There is a small urban red squirrel population in Newcastle. Widespread in rest of Europe.
Habitat: Coniferous forests of Scotland and Wales; mixed woodland in England and Ireland.
Description: bushy tail; ear tufts; coat colour in adults can vary from cream, through all shades of red and brown to black. Ear tufts and tail may bleach to cream in summer.
Size: head and body up to 24 cm, tail up to 20 cm, weight up to 350 g.
Life-span: about 3 years, but up to 7 years possible.
Food: seeds of a wide variety of trees, buds, hoots, flowers, berries, nuts, bark and fungi.
Population: 120,000, mostly in Scotland
The red squirrel, the original 'Squirrel Nutkin' of Beatrix Potter fame, is one of our favourite British mammals but it is declining in numbers and classified as an endangered species. The reason for its disappearance from most of its old deciduous woodland homes is largely down to the North American 'grey squirrel' (population 2million) that carries the virus parapox, deadly to our native red squirrels. The slightly larger grey squirrel also directly competes with red squirrels for food and nesting sites.
Read More: Territory