Do you dream of becoming an award-winning chef? Create a Sustainable Business Premier Dish is an exciting opportunity for young people in the UK, France and Belgium who have an interest in environmental issues and cooking. It's a unique competition which challenges young people to develop a main course to be served on board Eurostar's most prestigious class of service.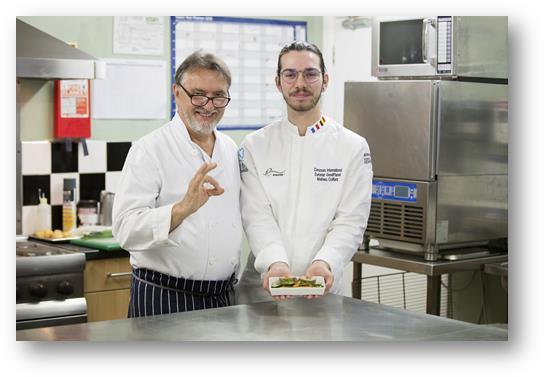 Create a Sustainable Business Premier Dish is supported by Eurostar, working in partnership with the Young People's Trust for the Environment in the UK, GoodPlanet in France and GoodPlanet Belgium together with Eurostar's Culinary Director for Business Premier, Michelin-starred chef Raymond Blanc OBE.
Launching this year's competition today, M. Blanc said "Given the significant environmental challenges society is facing, we should all be thinking as much about the provenance and sustainability of our food, as we are about the flavour and presentation. I am delighted to open entries for this competition today, to help put the spotlight on sustainable food sourcing and quality, local ingredients. I look forward to seeing what the students create and working with the winner to introduce their dish to the Eurostar Business Premier menu."
Entrants' dishes should be not only delicious, but also made from seasonal and sustainable ingredients that where possible have been locally sourced. The competition is open to entries from individual students from the age of 15 to 19 years old in the UK, France and Belgium. The 2018 competition is now open and the deadline for entries is 29 June 2018.
Pictured is 17-year old Mathieu Coiffard from Perigueux in the Dordogne who studies at the École Hôtelière du Périgord. He was the winner of the 2017 competition and impressed judges with his rustic yet modern dish featuring sustainable ingredients of local provenance. Last week, Mathieu spent a day with Raymond Blanc OBE to fine-tune his dish, which will be served on board Eurostar from April 2018 for three months.
So if you've got a passion for cooking, and you're up for creating irresistible and sustainable dishes, this is your chance! To download all the competition documents, including the competition brief, terms & conditions and entry form, please visit: www.eurostar-treadlightly.com/en
Related Resources