Team - Peter Littlewood
Director: Peter Littlewood BA (Hons), FRSA, Cert Mgmt (Open)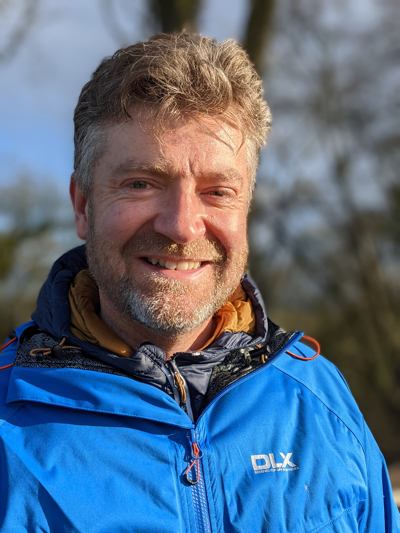 Peter joined the staff of the Young People's Trust for the Environment way back in 1993 on the day after he finished his final exam for a degree in Archaeology. Peter was already an experienced outdoor instructor when he started working for the Trust, and now has more than 30 years experience of leading and organising residential trips for school groups and young people.
He became the Trust's Director in 1999, and has been responsible for heading major projects including the Living for the Future Millennium Awards and Barclaycard LivingLand, which ran from 2001-2004 and Making waves in your community for Northumbrian Water in 2005. He is currently responsible for devising and delivering the Better Energy School Awards (a project begun in 2006). He is worked with Eurostar on 'Create a Sustainable Business Premier Dish', a competition open to 15 to 19 year-olds in the UK, France and Belgium that combined cookery with sustainable foods; and 2,000 Words to Change the World, an essay writing competition for 15-18 year olds. He also devised the 'Roots to Green Living' concept, which has so far been delivered to a group of schools in Bristol, Bath and northeast Somerset and the London boroughs of Ealing, Hillingdon and Hounslow. Peter spends some of his time delivering talks and presentations in schools on a range of environmental issues and writing educational materials such as Conservation Education.
He is continually interested in developing new projects for corporate sponsors. He manages YPTE's website and develops new content for it. The vibrant new site is being continually updated to provide even more great environmental education resources for young people and teachers, including video clips, lesson plans and presentations.
He created YPTE's education programme for Energy Challenges, an EU-funded environmental project for schools in Southend-on-Sea, headed up by Southend Council and is now developing Better Planet Schools, which will be launched to all primary schools in the 2021-22 academic year.
Along with writing many of the Trust's publications, Peter is also the author of Global Questions: Why Are The Rainforests Being Destroyed?, Mapping Global Issues: Endangered Species and co-wrote Mapping Global Issues: Rainforest Destruction with his wife Antonia, all published by Franklin Watts.
Peter has a Professional Certificate in Management from the Open University. This concentrated on the skills required to run a not-for-profit organisation. He also has the Institute of Fundraising's Certificate in Fundraising Management. He is a Fellow of the RSA and a Level 3 Forest School Leader.
Peter is delighted to have a job that he enjoys so much, which makes a difference, and which is so varied and interesting.