Overview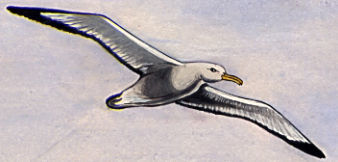 Order: Procellariiformes
Family: Diomedeidae
Species: Diomedea exulans
IUCN Red List Status: Vulnerable
Distribution: The southern oceans and its small islands. Between Antarctica and the Tropic of Capricorn.
Habitat: Oceans and remote islands.
Description: Goose-sized with long, narrow wings. Black and white plumage. Long, hooked bill; large webbed feet.
Size: Length:- 1.1 - 1.35m. Wingspan:- max. 3.6m. Weight:- 8 - 12kg; female lighter.
Life-span: Up to 80 years
Food: Mainly squid, octopus, cuttlefish and crustaceans.
The wandering albatross has the largest wingspan of any bird and is perhaps the most magnificent of all twelve species of albatross. It is aptly named as it is a great traveller, covering enormous distances, gliding effortlessly on updraughts. It sometimes spends several months in the air, without ever touching land.