Overview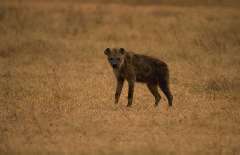 Description: Short, dirty yellow to reddish coat. Irregular dark brown spots. Short erectile mane.
Habitat: Grassland and flat open terrain
Distribution: Africa - South of the Sahara.
Length: 1.37 - 1.67m Shoulder height: 76 - 91m.
Weight: 45.3 - 79.3kg.
Life Span: About 25 years.
Diet: Zebra, antelope and carrion.