Seed Saving for Wildlife and Biodiversity
Whilst certain characteristics might be of benefit to farmers who want to grow huge quantities of one particular crop, many smaller local growers may prefer the flexibility of growing smaller numbers of a wider range of plants.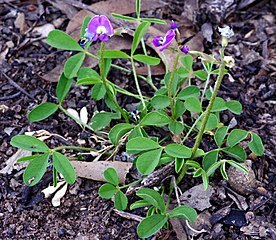 Another reason people may want to gather and save seeds is to make sure that certain varieties of fruits, vegetables and wildflowers don't die out. Like other endangered species in the animal kingdom, plants can suffer as a result of habitat loss due to monoculture farming or use of pesticides. Environmental disasters can cause serious harm to plants as well as animals in affected areas. The Australian bush fires in 2020 were not just catastrophic for millions of animals, they also saw the destruction of the rare clover glycine, already a vulnerable species.
Fortunately for the clover, seed saving is practiced all over the world for events such as these. Researchers from the Kew Gardens Millennium Seed Bank were able to send 250 clover glycine seeds over to Australia to help try to re-establish the damaged areas of land. Seed banks such as the one at Kew are used to store seeds from wild plants and from crops. One of the aims of the seed bank is to protect the UK's wildflowers, which are declining due to a loss of meadowland.
The Svalbard Global Seed Vault in Norway is another huge holding space for seeds from across the world. It makes sense for countries to send samples of their plants for storage elsewhere because seed banks can be destroyed by war or natural disasters. The national seed bank of the Philippines was damaged by flooding and later destroyed by a fire; the seed banks of Afghanistan, Syria, and Iraq have been lost entirely due to war. No genetically modified strains of seeds are kept at the Svalbard bank. In 2019, they had seeds from 992,032 different plant varieties from around the globe.
Whilst it is not a gene bank, Garden Organic has a Heritage Seed Library. This is a collection of seeds from vegetable varieties that are less commonly found in shops. All the seeds are Open Pollinated and seeds from the resulting plants can be saved, swapped and reused freely. People can sign up to become a member of the library and are allowed to choose 6 sets of seeds each year to grow at home. In this way, the library hopes to preserve biodiversity in gardening and to ensure that lesser known species don't disappear, but will still be available to be enjoyed by future generations.

Photo: DavidFrancis34
Read More: Credits