Team - Naomi Wilkinson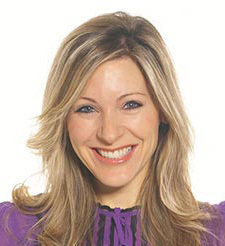 Bristol born Naomi loves music and dance. She began ballet lessons at the age of 3 and went on to graduate as a dance teacher from the London College of Dance. Her entertainment career first took off at Butlins where she was one of their famous Redcoats, before her television break came when she presented the breakfast show Wakey Wakey for Carlton.
Naomi has been a regular on CBBC since 2010 and she has been busily ticking many activities off her bucket-list. Naomi has to conquer plenty of her fears and face some extreme challenges during filming of Naomi's Nightmares of Nature, which have included skydiving; sleeping up a tree in the jungle; caving and even swimming with sharks… 3 times! The series won an award in the Best Children's category at the West of England RTS Awards Bristol. Her previous daredevil stunts, like wing walking and paragliding, on the award winning BBC Saturday morning show Live 'n' Deadly set her in good stead.
Naomi has been lucky enough to present children's programmes within the output of 3 network channels. She is delighted to have appeared in numerous CBBC programmes. For CiTV Naomi has presented two series of the art show Finger Tips, as well as The Yuk Show and for 10 very happy years Naomi presented the live Channel 5 show Milkshake! She not only presented this pre-school block, she also produced the show, choreographed numerous dance numbers and wrote some of the songs. Whilst at 5, Naomi produced two BAFTA nominated series, The Christmas Milkshake Show and A Milkshake Summer. Her Milkshake adventures took her around the world and allowed her to work alongside some on screen legends including Elmo, who she enjoyed visiting on the set of Sesame Street in New York.
In 2007 she went to Philadelphia, USA, to help train the presenting team for the breakfast programme The Sunny Side Up Show for PBS Kids Sprout. She also hosted PBS Kids' Make Way for Noddy series.
One of Naomi's true passions is tap dancing. She has spent time in the US studying the dance form and can sometimes be found teaching tap at Pineapple Dance Studios in London. But her love of rhythm and music extends beyond her tap shoes. She thanks her dad for her musicality having grown up surrounded by his penchant for classical music and she has recently revived her piano studies.
Naomi loves being in front of an audience too. 2013 saw her host a fortnight of Deadly themed Summer Shows at Longleat Safari & Adventure Park. In 2011 she compered for Steve Backshall's Wild and Live Tour and in 2009 she danced her way up and down the UK with the milkshake! Live Theatre Tour. She has starred in pantomime as Cinderella at the New Wimbledon Theatre alongside Richard Wilson & John Barrowman, in Aladdin at Cardiff's New Theatre with John Inman and most recently as Dick Whittington at Bath's Theatre Royal.