Sudan, the last surviving male northern white rhino died on Monday 19 March 2018, aged 45.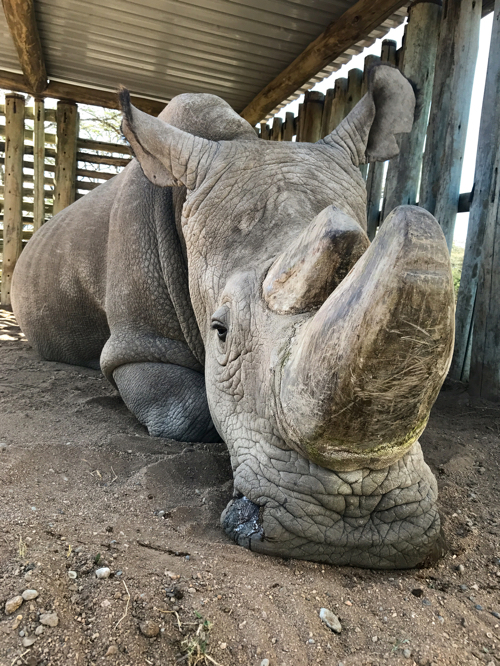 He was living at the Ol Pejeta Conservancy in Kenya, and was put to sleep by vets there after the pain from a degenerative illness he was suffering from became too severe. He was unable to stand and was visibly suffering. At 45, he was the equivalent of 90 years old in human terms.
There are now just two surviving northern white rhinos, Sudan's daughter, 27 year-old Najin and his granddaughter, 17 year-old Fatu.
Until 2009, the four last remaining northern white rhinos - two males and two females - lived at Dvur Kralove Zoo in the Czech Republic. They were then moved to Ol Pejeta in the hopes that returning to their natural environment would encourage them to breed. The other male dies of natural causes in 2014 and the captive breeding programme has so far been unsuccessful. The next step will be to try in-vitro fertilisation (IVF). This will be a highly complex procedure, costing as much as $10m).
Northern white rhinos were virtually wiped out by poachers in the 1970s and 80s and were considered extinct in the wild in 2008. There are around 20,000 southern white rhinos left in the wild, whilst there are just over 5,000 critically endangered black rhinos left in the wild.
Rhinos are still killed by poachers today. Rhino horns are used in Chinese medicine and as dagger handles in Yemen.
Related Resources