Introduction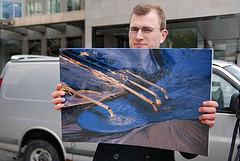 It is against the law to steal from or hurt other people, and it is against the law to kill another person. But, is it against the law to destroy thousands of trees and the wildlife that depend on them? Is it against the law to pollute rivers with toxic chemicals and help cause and spread disease? Not yet...
We humans have the right to live and be safe, happy and healthy. Do trees or animals have these rights too? What protects them from being destroyed or damaged? The problem is, when companies and corporations destroy trees and wildlife and pollute our rivers they often are harming other people! For example deforestation is a leading cause of global warming and this is affecting people worldwide. Industries are polluting our air and our water with greenhouse gases and toxic chemicals, which can cause disease and illnesses such as asthma.
A report published in 2010 stated that the actions of the world's top 3000 companies caused £1.4 trillion of damage to the environment in 2008. To read more about the report click here.
What can we do about this? How can we make businesses consider the environment more, and encourage them to protect the health of our planet and ourselves? Well, we can create a new law, the law of 'ecocide'.