Overview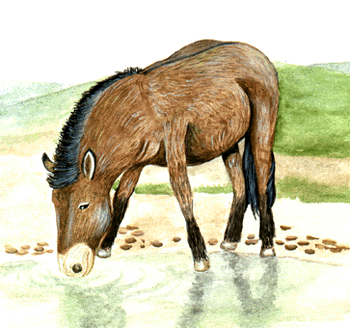 Order: Perissodactyla
Family: Equidae
Species: Equus ferus przewalskii
Distribution: Recently reintroduced to Mongolia. Once found from Ural mountains to Mongolia.
Habitat: originally roamed mountainous, arid, semi-desert country with large, grassy plains.
Description: stocky body; low set shoulders which blend directly into the back, giving the horse a primitive look. Yellowish-brown coat, paler undersides, pale sandy-coloured muzzle, black tail and lower leg. Thick woolly coat in winter. The mane has no forelock but has short, stiff, black hairs which stand upright. Size: average height to withers is 12 hands i.e. 1.2m to shoulders. Weight: about 350kg.
Life-span: up to about 25 years.
Food: grass and leaves from shrubby trees.
Przewalski's horse (pronounced 'ji-vaal-ski') is the only truly wild horse left in the world. It is believed that it has changed very little since the end of the Ice Age.

It was discovered and identified in 1881 by a Russian cavalry officer and explorer, Colonel Nicolai Przhevalsky, after whom the horse is named. Obviously, local people had known it for generations before this time.