Overview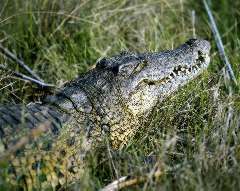 Order: Crocodilia
Family: Crocodylidae
Distribution: Madagascar, Egypt and central Africa, south to Namibia, Botswana and Zimbabwe.
Habitat: Mainly large rivers, lakes, waterholes and wetlands; also estuaries and mangrove swamps.
Size: Average 3.5m, but up to 5.5m.
Description: A long body armoured with bony plates set in the skin of the back; long deep-sided tail, short limbs and long-snouted skull.
Lifespan: Ages of over 56 years have been recorded. Estimated to live 70 - 100 years. Some have lived even longer. Having resided in the Australia Zoo as one of its oldest residents, Mr Freshie was a freshwater crocodile that lived to be 140 years old making him the oldest known crocodile to ever be put in captivity.
Diet: Mammals, birds, reptiles, fish and carrion.
There are between 5 000 - 6 000 species of reptiles in the world today, and of these 23 are crocodilians. One family of crocodilians includes the crocodiles, alligators and caimans - Crocodylidae; the second family, Gavialidae, has only one member - the gharial or gavial (a very narrow-snouted crocodile).
Crocodilians are the closest surviving relatives of the great dinosaurs and they have changed very little during the 150 million years that they have lived on Earth!
Read More: Alligator or crocodile? What is the difference?