Overview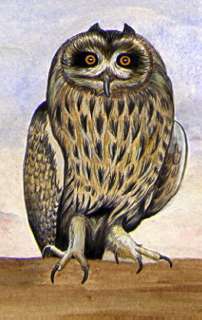 Order: Strigiformes
Family: Strigidae
Species: Asio flammeus
IUCN Status: Least Concern
Population trend: decreasing
Distribution: breeds in northern Europe (including Britain), northern U.S.A., South America & Asia. Winters in southern Europe, sub-Saharan Africa, India & southern Asia.
Habitat: open country such as marshes & moorland; also young conifer plantations.
Description: short, round head with tiny tufts on top. Smallish, yellow eyes. Buff colour with darker blotches. Pale underwing with dark patch, noticeable in flight. Wings are very long.
Size: length:- 34 - 42cm. Wingspan:- 90 - 110cm. weight:- 280 - 360g.
Food: mainly voles, but also other small rodents and birds.
The short-eared owl is a widespread species, found in many countries but it's survival in Europe is now a European conservation concern with amber status - find out more on the RSPB website.