Overview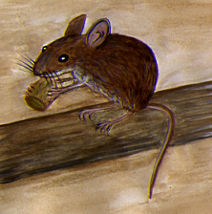 Order: Rodentia
Family: Muridae
Species: Apodemus sylvaticus
IUCN Status: Least Concern
Population Trend: stable
Distribution: throughout the British Isles and Europe, except for northern Scandinavia, Finland and north-western USSR.
Habitat: woodlands, fields, hedgerows, moorlands, mountain-sides, sand-dunes, scrub land, gardens.
Description: sandy-brown above, white below. Large eyes and ears, long tail.
Length: head & body 80 - 100mm tail 69 - 110mm
Weight: 14 - 28g.

Life-span: usually up to a year; rarely more than two years.
Food: seeds, fruits, buds & other vegetation, invertebrates.
The wood mouse, also known as the long-tailed field mouse, though rarely seen as it is nocturnal, is probably Britain's most numerous mammal. A close relative of the wood mouse is the yellow-necked mouse (Apodemus flavicollis) which looks like a large, sandy-coloured wood mouse with a distinct yellow collar; it occurs only in the south of Britain & Wales and is much rarer than the wood mouse.
Read More: Wood Mouse Habits