What Happened to Cause the Disaster?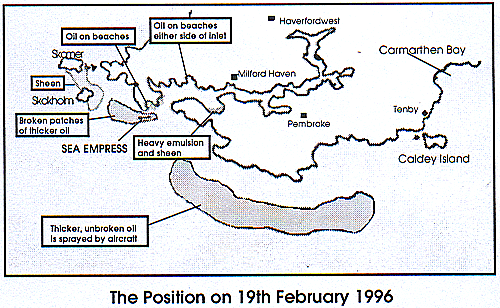 The 147,000 tonne oil tanker Sea Empress ran aground on February 15th 1996 at 8.07 pm, despite being under the control of one of Milford Haven's harbour pilots. Heavy seas had prevented the tanker from being docked earlier, but insufficient safety measures, including the lack of provision for a heavy tug in the area are also being blamed. The fact that it took over 24 hours for a heavy tug, to reach the Sea Empress may well have contributed to the extent of the disaster, as by that time the weather had worsened. Off-loading of the oil still aboard did not start until 24th February.
She was freed from the rocks on which she had been grounded amidships at around 7.10pm on February 21st 1996. A total of twelve tugs were required to pull her free. She was then towed slowly to Milford Haven docks to discharge her remaining cargo (approximately 70,000 tonnes of crude oil) whilst moored to an oil refinery jetty.
The Sea Empress lost around 70,000 tonnes of her cargo of North Sea crude oil. It is comparatively light oil, which gives out its most harmful toxins (poisons) into the water and air within a short time. The rest of the toxins are broken down by micro-organisms in the sea water, but before this crabs, shellfish and fish concentrate toxins within themselves, and some of these concentrated poisons will be far more harmful than the original ones. The toxins are then passed up the food chain.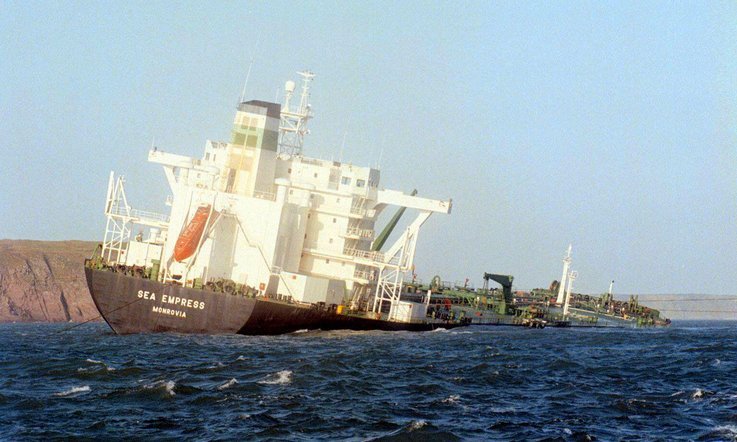 Read More: What Were the Effects of the Spill?