Overview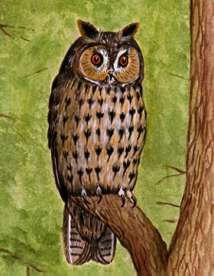 Distribution: patchily distributed throughout Britain and Ireland. Found also in Europe, Asia and North America.
Habitat: coniferous woodland, plantations, small clumps of trees in moorland and farmland.
Description: long ear tufts, bright orange eyes; buff back, mottled with brown; buff breast, streaked with brown.
Size: 34 - 37cm.
Food: voles, mice and small birds.
The long-eared owl may be found in many areas of Britain and Ireland, but it is not common and, being nocturnal, it is rarely seen. It prefers conifer woodlands (trees such as pine and spruce), but may also be found in deciduous woodlands (trees such as oak and beech).
If spotted, the owl's long 'ear' tufts make it easy to identify. The 'ears' are not really ears at all, but just tufts of feathers. The actual ears are simply holes, hidden under the feathers at the sides of the head.
Read More: Long-Eared Owl Habits