Overview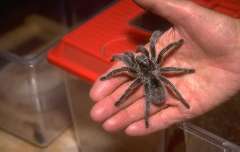 IUCN Status: Endangered
Distribution: throughout the warmer parts of the world, but mainly in the American tropics.
Habitat: mainly forest, often living on tree trunks. Some live in a silk-lined burrow on the forest floor. The 40 or so different tarantulas in the U.S.A. live on the ground in the warm deserts of the south-west.
Description: 8 legs, various shades of brown, mixed with black. Some species, such as the Mexican red-kneed tarantula display bright colours. A cluster of tiny eyes on top of the head. Whole body covered in hairs.
Size: length: up to 7.5cm. Leg span: up to 26cm. Weight: average 85g. Largest of all tarantulas is Theraphosa leblondi. Life span: 30 years or more.
Food: beetles, grasshoppers, moths, woodlice, millipedes, other spiders. Larger species eat small snakes, lizards, frogs, toads, mice and baby or roosting birds.
The name 'tarantula' is generally applied to any large, hairy spider, especially to the furry, bird eating spiders of South America.
Lycosa tarantula spiders, now better known as tarantula wolf spiders, were the first spiders to be referred to as 'tarantulas'. They come only from southern Europe and are normally no more than 4cm in length. The only tarantula-related species found in Britain is the rare purse-web spider, Alypus affinis. There are about 300 species of tarantulas worldwide and they are amongst the largest and longest living of all land invertebrates.
Read More: Feeding