Overview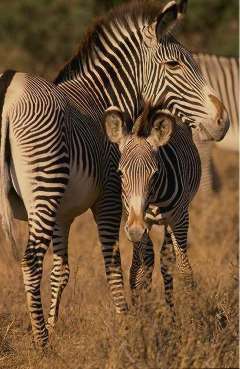 IUCN Red List status: Endangered
Distribution: northern Kenya, Somalia and eastern Ethiopia.
Habitat: dry savanna country.
Description: horse-like with big, broad, rounded ears. Long, narrow head, very narrow & numerous stripes on body and legs. Belly is usually pure white.
Size: length : 2.1-2.3m, tail 50cm. Shoulder height : 1.5m.
Weight: 350-430kg.
Life span: 25-30 years.
Food: grasses and some foliage.
Grevy's zebra is the largest of all the zebras and it is an endangered species. President Grevy was not the discoverer of this species, but a President of France who received the first specimens known to the scientific world.
It is widely believed and accepted that this zebra was the famed "hippotigris" (horse-tiger) of the Roman circus, so the specimens so graciously received by President Grevy may have been new to science, but they had been known by much earlier Europeans.
At first glance all zebra species look very similar to one another, but Grevy's zebra is probably the most easily recognised of them all. It is a very striking, tall zebra with huge ears and narrow stripes which encircle the rump in a concave pattern.
Read More: Territory