Did you know that the Young People's Trust for the Environment had its 30th birthday a couple of days ago? We were so busy we nearly forgot! That's 30 years of inspiring young people to look after our world and take an active role in protecting our planet for the future.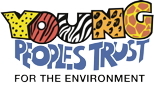 In the year to 31 March 2012 alone, our three Education Officers have delivered over 980 talks in schools to audiences totalling over 40,000 young people. In the same year, our website has received over 1.7 million unique visits and our new Roots to Green Living scheme is seeing schools in Bristol, Bath and NE Somerset benefit from regular visits and support from our new Roots to Green Living Education Officer. We're definitely helping a lot of young people and their teachers to get back in touch with nature, to learn more about the amazing wildlife on our planet and about the actions each and every one of us can take as individuals to help protect it.
We'd like to thank all of our supporters past and present for helping us to achieve this milestone. We couldn't have done it without you!