The Met Office has said that a number of high temperature records were broken in 2019 as a result of climate change.
On 25 July in Cambridge, the UK's hottest ever temperature - 38.7C (101F) - was recorded. The previous record, 38.5C was set in Faversham, Kent in August 2003.
The highest ever February temperature was recorded at London's Kew Gardens, when on the 26th, it reached 21.2C - ahead of the 19.7C recorded at the Greenwich Observatory, also in London on 13 Feb 1998.
And the hottest ever December temperature, 18.7C was recorded at Achfary in the Scottish Highlands (though this measurement is provisional and awaiting confirmation). The Highlands also saw the highest ever February minimum temperature recorded at Achnagart on the 23rd, beating Aboyne in Aberdeenshire's 1998 record.
2019 was only the UK's 11th hottest year on record, but all 11 of the hottest years have occurred since 2002.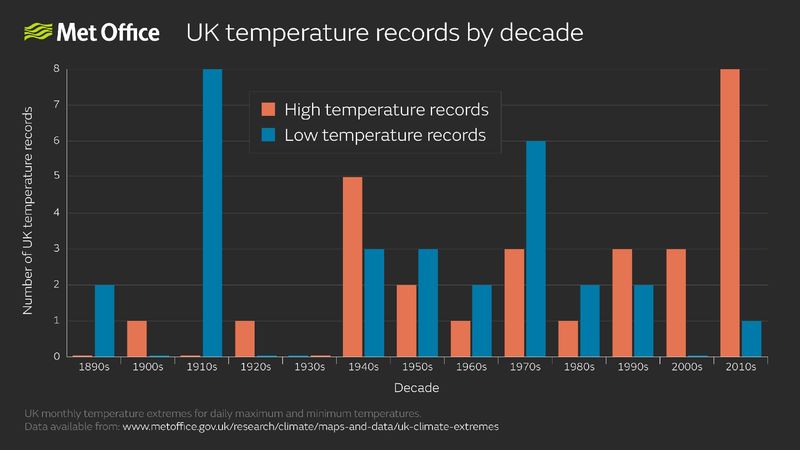 The 2010s were the second hottest and second wettest decade in the last 10 years, only just behind the 2000s. Only one low temperature record has been broken in the UK since 2000, when on 1 March 2018, Tredegar in Wales recorded the lowest ever maximum daytime temperature of -4.7C, as a result of the 'Beast from the East'. In contrast, 11 high temperature records have been set in the same time period.

Looking at global average temperatures, 2019 looks set to be the second or third hottest on record for the planet. It was the hottest ever year for Australia, where wildfires continue to burn, and for Russia. The World Meteorological Organization also expects the 2010s to be the hottest decade on record for global average temperatures.

For the year ahead, the Met Office currently forecasts the global average temperature to be between 0.99C and 1.23C (central estimate 1.11C) above the pre-industrial average period from 1850–1900. Since 1850, 2016 was the warmest year on record with a central estimate of 1.16 °C above the same baseline.
Related Resources