All of the winners of the Total Green School Awards have now been announced. We have seen amazing projects from over 35,000 children this year and it's great to see so many schools getting involved in some brilliant environmental projects.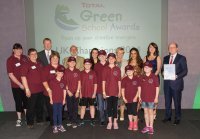 You can see all of the winners here.
Special congratulations go to our UK Champions, Ollaberry Primary School from Shetland. The school's seven pupils were all involved in an investigation of marine litter. They explored a local beach and discovered lots of rubbish, some of which was from Shetland, while other items had been washed up having travelled thousands of miles across the ocean. They found out about the dangers posed by plastic bags to marine life and this drove them to create their own re-usable shopping bags from old t-shirts, which they sold to the local community. To spread their message more widely, they created brilliant animation highlighting the dangers that plastic bags pose to marine animals like turtles. It has already had more than 1,500 views on YouTube and attracted lots of positive comment. You can see their video here.
The children from Ollaberry, together with representatives from the other Regional Champions, Newton Primary School from Chester, Argyle Primary School from London and Okehampton Primary School from Okehampton, Devon all attended a presitgious Awards Ceremony at London Zoo. They received their prizes, which included £1,000 for the school funds, a specially-commissioned trophy and framed certificate from special guests who included actresses Montanna Thompson (Justine Littlewood from Tracey Beaker), Clare Thomas (Young Dracula's Ingrid Dracula) and Shannon Flynn (Waterloo Road actress and Friday Download presenter), Frank Dobson MP and Tavish Scott, MSP for Shetland.
YPTE Presidents Steve Backshall and Naomi Wilkinson both sent video messages to congratulate the winners. Ollaberry Primary School received a total of £5,000 for the school funds as UK Champions. The Total Green School Awards 2015 are now open for entries and full Award details will be available from www.totalgreenschoolawards.org later this summer.
Related Resources