Since the start of 2019, the number of wildfires burning in Brazil's Amazon rainforest has increased by 84%. There were around 40,000 fires in the Brazilian Amazon between 1 January and 21 August 2018. In the same period this year, that number has increased to around 75,000. The smoke from the fires can be seen from space.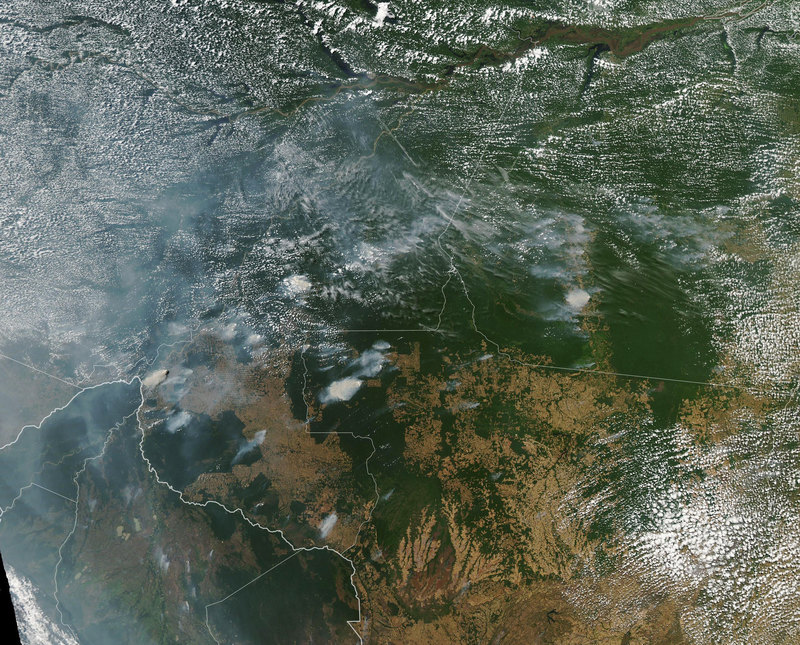 Wildfires do often occur naturally in the rainforest during the dry season, but they are also started deliberately to clear land in readiness for cattle ranching. The Brazilian state of Amazons has declared a state of emergency because of the fires.
It is being seen as no coincidence that this increase in wildfires has come since 1 January 2019, when Jair Bolsonaro was sworn in as President of Brazil. During his election campaign, Mr Bolsonaro pledged to weaken Brazil's environmental agency and to limit fines damage to the rainforest. He also suggested that Brazil could pull out of the 2015 Paris agreement, as it would limit the country's ability to exploit the resources of the Amazon rainforest.
French President Emmanuel Macron has said that the number of fires in the Brazilian Amazon is an 'international crisis', which he says should be given priority at this weekend's G7 Summit in Biarritz.
In a tweet, M. Macron wrote "Our house is burning. Literally. The Amazon rain forest - the lungs which produces 20% of our planet's oxygen - is on fire. It is an international crisis. Members of the G7 Summit, let's discuss this emergency first order in two days!"
In response, President Bolsonaro tweeted, "I regret that president Macron seeks to take advantage of what is a domestic Brazilian issue and of other Amazonian countries for personal political gain."
Celebrities, including Madonna, Lewis Hamilton and footballer Cristiano Ronaldo joined in the debate on Twitter, with Ronaldo stating,
"The Amazon Rainforest produces more than 20% of the world's oxygen and its been burning for the past 3 weeks. It's our responsibility to help to save our planet. #prayforamazonia."
Yesterday, Brazil's Environment Minister, Ricardo Salles was booed by demonstrators as he took to the stage at Latin America and Caribbean Climate Week in Salvador. Mr Bolsonaro meanwhile suggested that NGOs were to blame for the increase in wildfires, as they were losing money under his regime. He did not back his claim with any evidence.
The Amazon rainforest covers an area about half the size of Europe. It is home to at least 3 million species of animals and plants. Its trees absorb billions of tonnes of carbon dioxide every year, slowing the pace of climate change. The more the forests burn, the more that burning releases carbon dioxide into the atmosphere. And more the trees are destroyed, the more forest's ability to absorb carbon dioxide is reduced. That is why this issue is being viewed as a problem for the whole world, not just for Brazil.
Photo: The Moderate Resolution Imaging Spectroradiometer (MODIS) on NASA's Aqua satellite captured these images of several fires burning in the states of Rondônia, Amazonas, Pará, and Mato Grosso on August 11 and August 13, 2019.
Photo from NASA Goddard Space Flight Center, made available under CC BY 2.0.
Related Resources