Overview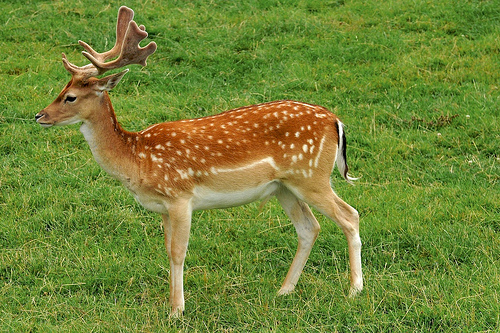 Order: Artiodactyla
Family: Cervidae
Species: Dama dama
Distribution: Native to the Mediterranean region & parts of the Middle East. Introduced widely in Europe, and to parts of North & South America, southern Africa & Australasia.
Habitat: Woodland with grassy clearings for grazing.
Description:
Male: summer coat is reddish-brown with white spots. Palm shaped (palmate) antlers. Long, black, white-fringed tail & white, black-bordered rump.
Female: smaller than male, no antlers but same coat colour. In winter, the coat has no spots & is dark grey. In some regions there are deer which are pale brown with spots (menil) as well as both black & white varieties.
Life-span: 15 years.
Size: Height:- 70 - 95 / Weight:- 40 - 100kg / Antlers:- 60 - 95cm
Food: grass, herbs, foliage, nuts, berries, bark, fungi.
The fallow deer was introduced into Britain by the Normans and wild herds have lived for centuries in ancient forests such as the New Forest, Epping Forest & the Forest of Dean. Later, semi-domesticated herds were introduced into the parks of stately homes and estates - one of the best-known places to see large herds of fallow deer is Richmond Park in London.
Read More: Breeding