Overview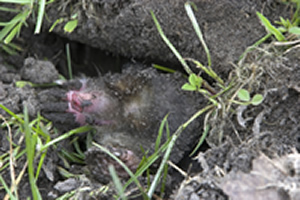 Order: Eulipotyphla
Family: Talpidae
IUCN Status: Least Concern
Population Trend: stable
Distribution: Great Britain, except Ireland; throughout rest of Europe and Asia.
Habitat: Lives mostly underground in pasture, woodland and gardens; absent from high moors, mountains and acid soils.
Size: Male:- head and body about 15cm (6ins). Female is slightly smaller. Tail about 32mm long. Weight:- about 120g and males are heavier than females.
Life-span: up to 3 years.
Food: Mainly earthworms. Also insect larvae and slugs
Description: Solid, muscular body covered in velvety black fur (grey, cream, orange, white and piebald colours also found). Long, pointed nose and short, upright tail. Tiny pin-head sized eyes. Large, shovel-like front feet with 5 strong claws.
The mole is not seen very often but it is one of our best known small mammals. The heaps of soil (molehills) which it makes whilst tunnelling gives its presence away. In medieval times it was called a moldewarp (earth thrower). The mole is closely related to the hedgehog and shrews.
Read More: Food and Feeding