Overview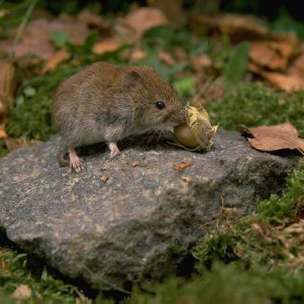 Order: Rodentia
Family: Cricetidae
Species: Microtus agrestis
Distribution: widespread throughout Britain and offshore islands, but none in Ireland. Also found in northern Europe from north-west Spain to Russia.
Habitat: mainly open, grassy habitats with dense ground cover. Particularly likes overgrown fields with damp tussocky grass. Also found on moors and in hedgerows.
Description: mouse-like but blunter nose, shorter tail & less prominent ears. Yellowy-brown fur.
Size: head and body, about 10cm; tail, 4cm.
Life-span: about one year.
Food: mainly grasses; also bulbs, roots and tree bark. Occasionally insects, snails and other invertebrates.
The field vole is also called the short-tailed vole. It is very similar to the bank vole (Clethrionomys glareolus) but the latter has red-brown fur, a longer tail and more prominent ears than the field vole.
Orkney voles (Microtus arvalis orcadensis) are found only on the Orkney Islands in Scotland. They are larger than field voles and have short, pale brown fur. Guernsey voles (microtus arvalis sarnius) are only found on the Channel Island of Guernsey and are also larger than the field vole.
Read More: Territory