Overview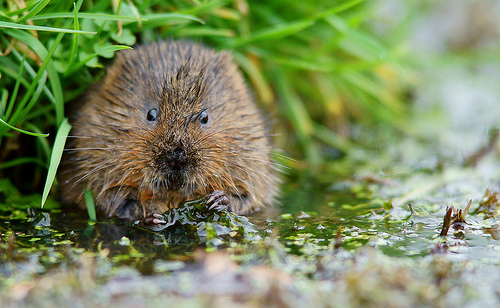 IUCN Status: Least Concern
Population Trend: stable
Distribution: throughout British Isles (except northern Scotland & Ireland), and Europe (except for southern parts of France, Portugal, Spain, Italy & Greece). Also USSR, SW Canada & north western parts of North America.
Habitat: rivers, canals, streams, ponds, lakes, marshes. Sometimes found far from water, in woodland, meadows, crop fields and gardens.
Description: rat-like in appearance but with a rounder face with a blunt nose, short furry ears, shorter tail; long, glossy, dark-brown fur.

Size: male:- head and body, 20cm; tail, 12cm. Female slightly smaller.
Life-span: about 5 months in the wild - usually no more than 18 months. Up to 5 years in captivity.
Food: mainly grasses and waterside plants. Also twigs, buds, bulbs, roots and fallen fruit.
Water voles are often mistakenly called water rats, but they are only distantly related to rats. 'Ratty' from the famous book 'Wind in the Willows', should really have been called 'Voley'! Although it is the same size as a brown rat, the harmless water vole differs in having a chubby face with a blunt nose and short furry ears almost hidden by long fur. Brown rats do, like the voles, sometimes live in waterside burrows and may be seen swimming, but they are usually near buildings and often in polluted water. Water voles prefer clean water in less disturbed areas by lowland river banks or the edges of ponds and lakes.
Read More: Territory