The Effects of Overfishing on Other Wildlife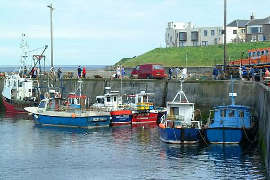 The overfishing of a particular species does not just damage the population of that fish alone. It can have serious effects further up the food chain. Herring is a vital prey species for the cod. Therefore, when herring are overfished the cod population suffers as well. The sandeel is the main food for seabirds such as the puffin. Sandeels have been fished around the Shetland Islands since the mid-1970s, though catches were declining throughout the 1980s. At the same time, the colonies of seabirds nesting around Shetland declined, with some even failing to breed for several years. Because of the low numbers of sandeels around the Shetland Isles in the 1980s, the fishery was closed periodically from 1989, reviewed annually and not reopened until 1995, at which time legislation made it necessary for fisheries to take account of wildlife conservation. It is not thought to have a significant impact on the number of sandeels available for seabirds.
In the Antarctic, fishing for krill is threatening to disrupt the delicate balance of nature in these waters. Krill are small, red shrimps, about 6cm long, found in huge numbers in areas of plant plankton, and they make up a significant part of the animal plankton. Krill occur in huge swarms many kilometres across, and it has estimated that there could be up to 650 million tonnes of them in the Antarctic Ocean.
Since the early 1980s, six countries, including Japan and the former USSR have been harvesting krill, which is the main food for the great whales, and which also supplements the diets of seals, penguins, squid and fish. We have no idea what effects this will have on the populations of animals which feed on krill. The natural balance in the Antarctic has already been upset by the over exploitation of the great whales and heavy fishing of krill may well worsen the situation. Krill populations in the Antarctic are now declining.
Read More: Climate Change and Changing Seas