Team - Michael Aspel OBE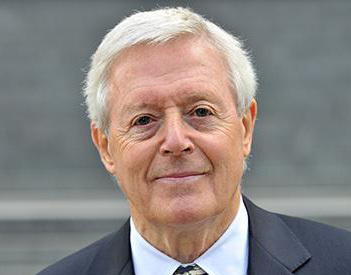 At the BBC he began presenting a number of other programmes such as the series Come Dancing, Crackerjack, Ask Aspel, and the Miss World beauty contest, which he covered 14 times. He narrated the BREMA cartoon documentary, The Colour Television Receiver (aka Degaussing or The Colour Receiver Installation Film), which was shown every day (except Sunday) on BBC2 between 14 October 1967 and 8 January 1971. He also provided narration for the BBC nuclear war documentary The War Game, which won the Best Documentary Feature Oscar in 1966, but was not shown on British television until 1985.
In 1977 Aspel appeared with a number of other newsreaders and presenters in a song-and-dance routine ("There ain't Nothing Like a Dame") on The Morecambe and Wise Show. The sketch, in which the presenters were dressed as traditional sailors, is often cited as one of the classic moments of British TV comedy. In another episode, Morecambe refers to him as "Michael Aspirin". In the 1970s and 1980s he presented popular ITV programmes such as Give Us a Clue, Child's Play and The 6 O'Clock Show, a live current affairs and entertainment programme shown only in the London Weekend Television region.
During the early 1990s, Aspel presented two documentaries on BBC Radio 2 written by Terence Pettigrew, on subjects with which they shared a personal knowledge. Caught in the Draft was a nostalgic look back at compulsorynational service. Both had served, at different times, in West Germany, Aspel in the Kings Royal Rifle Corps and Pettigrew in the REME. Also taking part in the programme were comedian/compere Bob Monkhouse, Leslie Thomas, author of The Virgin Soldiers, and BBC Radio 2 drivetime host John Dunn. This was followed by Nobody Cried When The Trains Pulled Out, a documentary about the evacuation of children from major British cities during World War 2 that included champion boxer Henry Cooper, actor Derek Nimmo and author Ben Wicks.
Aspel was the host of the chat show Aspel & Company, which ran in the 1980s and 1990s on ITV. The show was successful in attracting high-profile guests including then-Prime Minister Margaret Thatcher, George Harrison and Ringo Starr. In 1993, Aspel & Company was censured by the Independent Television Commission because of an interview with Arnold Schwarzenegger, Bruce Willis and Sylvester Stallone who were promoting their joint business venturePlanet Hollywood. For a time, Aspel & Company performed well for ITV in the highly competitive Saturday night ratings but after the Planet Hollywood controversy, Aspel vowed never to host a chat show again.[5]
Aspel was featured on This is Your Life in 1980, and when host Eamonn Andrews died in 1987 he became presenter of the programme until its run ended in 2003.[6] In 1993, Aspel began presenting the ITV supernatural programmeStrange But True?, a series exploring supernatural phenomena and unexplained mysteries. The programme ran between 1993 and 1997. He presented a new version of the ITV gameshow Blockbusters for the BBC in 1997; 60 programmes were made. In 1993, Aspel became an Officer of the Order of the British Empire (OBE) "for services to broadcasting", and has been voted TV Times and Variety Club Television Personality of the Year. He was also voted into the Royal Television Society Hall of Fame for outstanding services to television.[7]
He presented BBC's Antiques Roadshow from 2000 until 2008, his last programme (recorded at Kentwell Hall, Suffolk) was shown on 30 March 2008 being a tribute to himself.[8] In 2003, Aspel starred in a BBC Three spoofdocumentary which claimed he had affairs with Pamela Anderson, Valerie Singleton and Angie Best, among others.[9] Aspel guest hosted the topical quiz show Have I Got News for You on two occasions (October 2005 and November 2007).